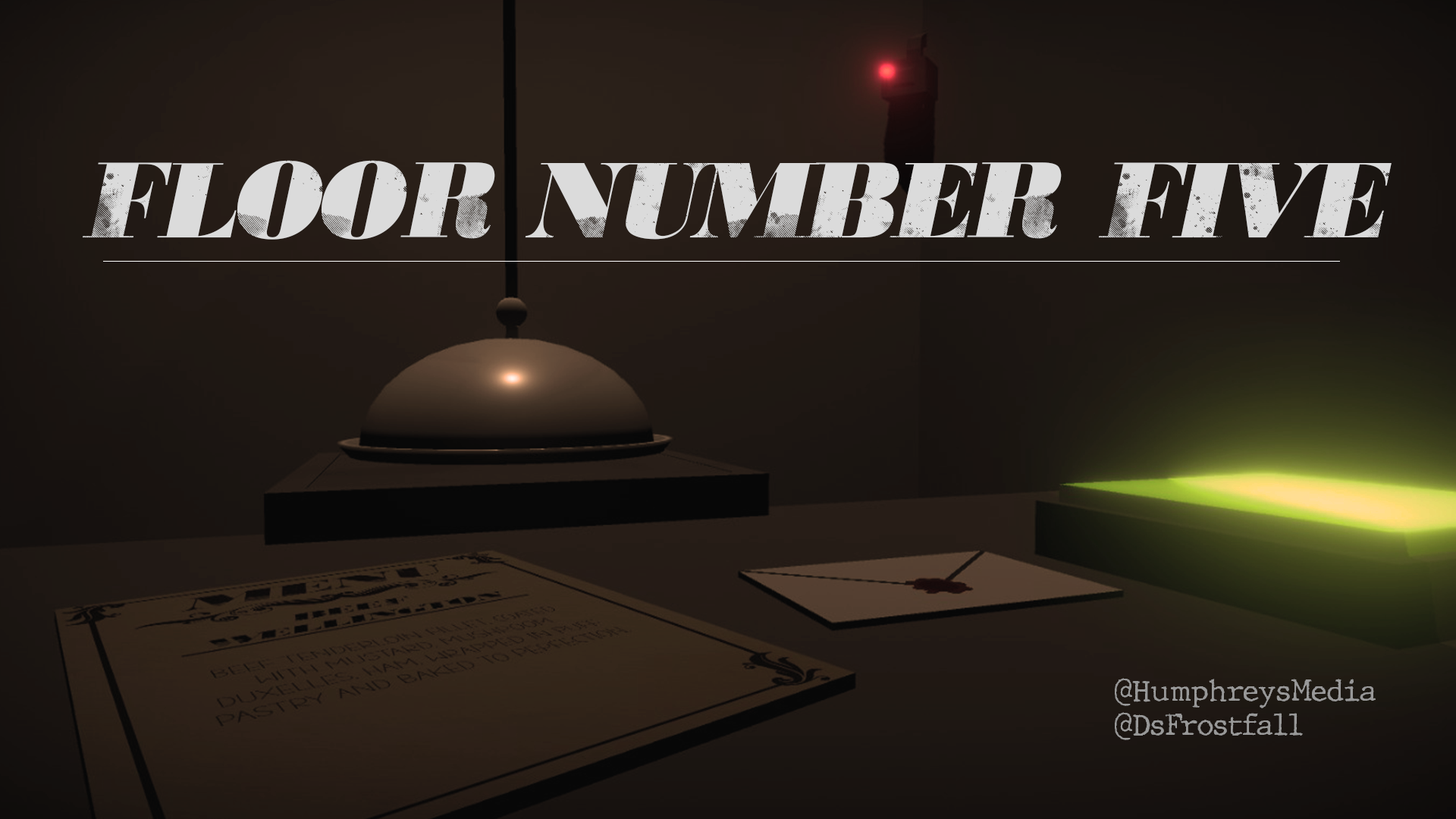 FLOOR NUMBER FIVE
A downloadable game for Windows
!!WARNING!! PLEASE READ!! Content involves mentions of suicide and homicide!
'FLOOR NUMBER FIVE' is a submission to the BLACKTHORNPROD 2021 game jam!
Game Description
You wake up to find yourself sitting at a desk, the only things within your view are two buttons stating 'Take' and 'Give', a letter & menu in front of you, and a camera, watching your every move. Soft moans and cries can be heard from below, as you notice the creaking sound of something being lowered from the ceiling. A silver tray with a meal underneath meets your gaze. Slowly, the realisation of the buttons dawns on you as you now have a choice to make.
THEME "LESS IS MORE" - BLACKTHORNPROD JAM 2021
The less food you take for your own salvation, the more you can feed the other floors trapped in the same scenario. Be careful though, as giving up too much food may lead to your demise.
Developers
Nichola Humphreys - Game Designer and Programmer
Danny Miles - 2D Assets & Narrative
Controls
Left-click to interact
Right-click to back out
Download
Comments
Log in with itch.io to leave a comment.
DEF HAD PLATFORM VIBES THANKS FOR RUINING ME LMAO GAME STARTS AT 32:06
Interesting game, reminded me of The Platform. Great work!!
Thank you for playing! We were heavily inspired by 'The Platform' as we loved the concept of it and we decided to share that in game form! We're super glad you liked it, thanks again! :)
Hello. This is a well thought out game. Had to play it a few times to see if it will change in the end. Good stuff ! Video here:
Thank you for playing and recording your experience of our game! We liked and commented on your video, thanks again!
I enjoyed this! Reminded me a lot of The Platform. Really cool concept here. I left some thoughts at the end of the video. Great work!
Thank you so much for playing! I was laughing throughout and left a comment on the feedback in your comments, thanks again!
im late but, this was really good!!
Thank you for playing our game! We loosely based the narrative off of the Netflix movie 'The Platform'! If you ever feel like coming back to the game there are more endings depending on how much you give and take :)
Hello, I played this game and I liked it, it was a pretty short but interesting experience, good work :)
I'm so glad to hear that you liked it! We do plan on adding more content to the game, as well as fixing various bugs after the Blackthornprod Game Jam is over as it was originally submitted for that. As thanks for playing and recording our game I've subscribed to your channel, and I can't wait to see more of your work too! :)
Interesting concept! I like the simple mechanics and story. I wasn't able to get to far but still a good game.
Thanks for playing our game! Apologises about any bugs you encountered, I was supposed to change the introduction letter as we removed the hunger meter last minute as we made it for a game jam, but I'm happy that you enjoyed it, we actually based the narrative loosely based off of the Spanish film "The Platform"!
As thanks for playing our game, I've subscribed to your channel, and I can't wait to see more!